Email sent to students today. It is with a heavy heart that I am sending this email. A recent graduate from Pioneer passed away this morning. Students - please know that we are here for you. If you need someone to talk with, Pioneer will have counselors and mental health workers available Thursday and Friday from 1pm to 3pm. Please enter the school through Door #1 and proceed to the guidance office where someone will assist you. Respectfully, Mr. Jeff Brooke

Have a great summer and see you in August for the 2022-2023 school year! #PantherPride
Don't forget to support the Pioneer Theater Group this weekend! You are sure to have a good time watching this performance.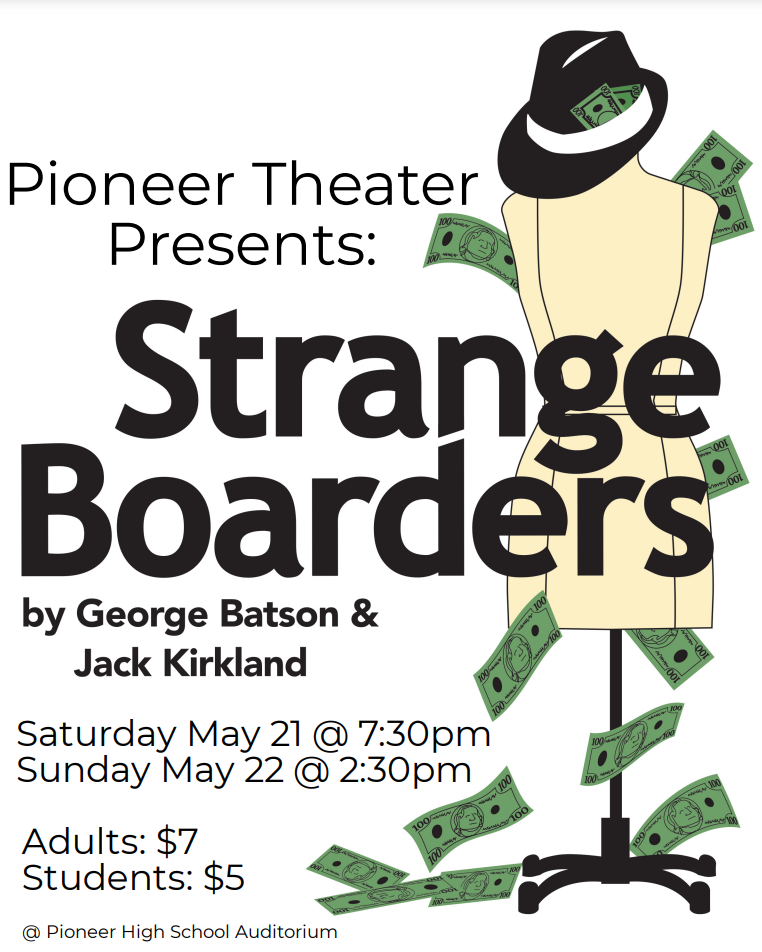 Pioneer Jr. Sr. High School has an eLearning Day on Thursday, May 19th. Remember to complete your attendance form. Your assignments will be ready by 8:30am on Canvas. #PantherPride

Pioneer Regional Schools is closed on Thursday May 19th 2022. This is an Elearning day.
Need some entertainment this weekend? Come and see the Pioneer Theater Group present Strange Borders!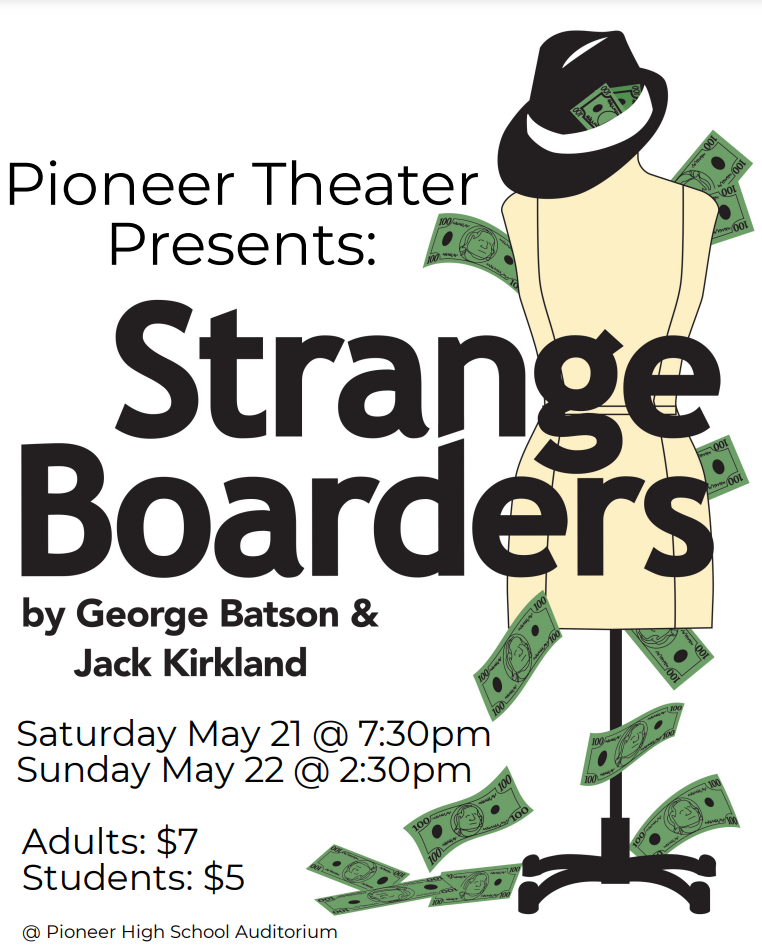 Need some entertainment this weekend?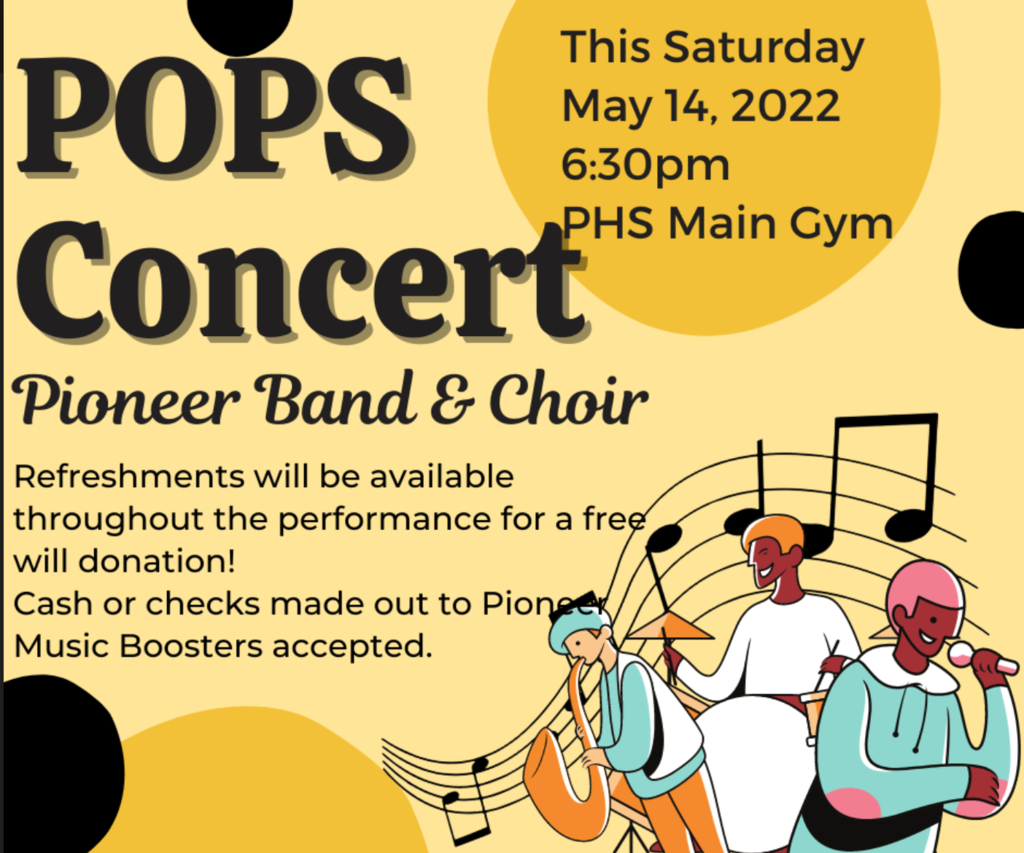 SOAP FUNDRAISER The cheerleaders are selling laundry soap. Don't know a cheerleader? Call the office (643-3145) & speak with Ashley. All orders & $ are due by May 20th. Proceeds will help pay for uniforms, camps, and equipment. Delivery date = first week of June

We have the best LUNCH HEROES! Thank you for everything you do to keep us fed!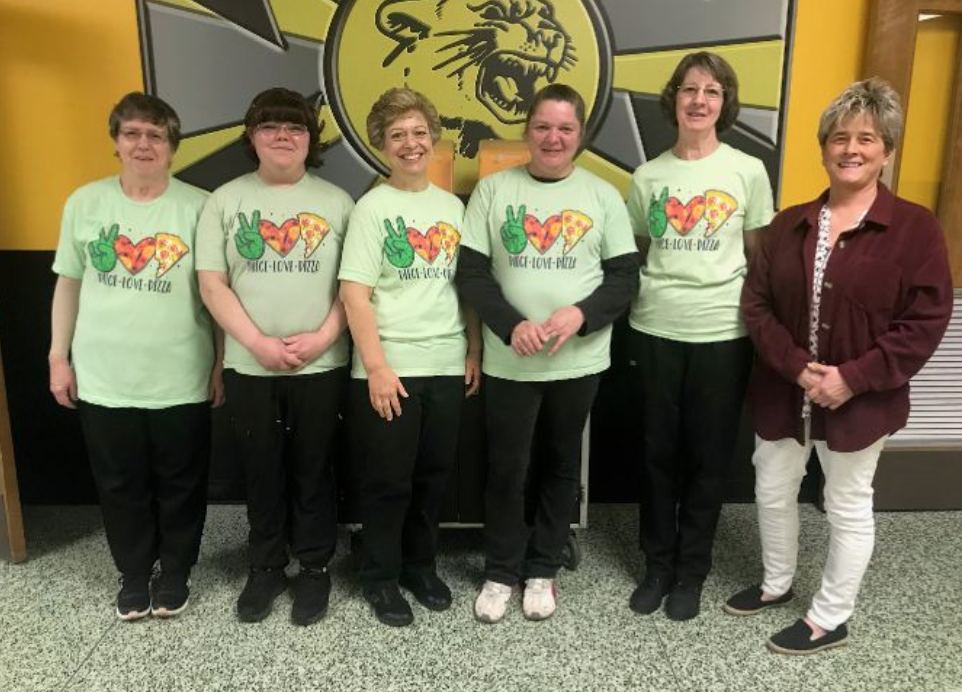 Thank you, Mr. Brooke, for being a principal who leads by example. You may see him washing dishes, directing traffic, subbing in the classrooms, or a host of many other things. Happy Principal's Day!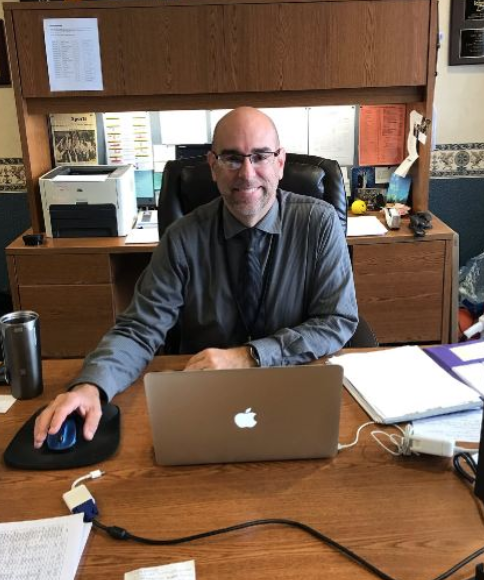 Congratulations to Mrs. Shrontz on being named Assistant Principal of the Year for District 4! She deserves this and so much more for the countless hours she dedicates to PJHS!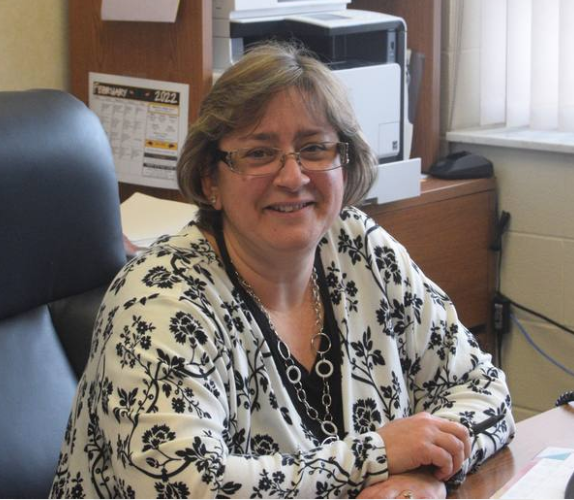 Congratulations to Shiloh! He won the underwater test by swimming the length of the pool and back without taking a breath!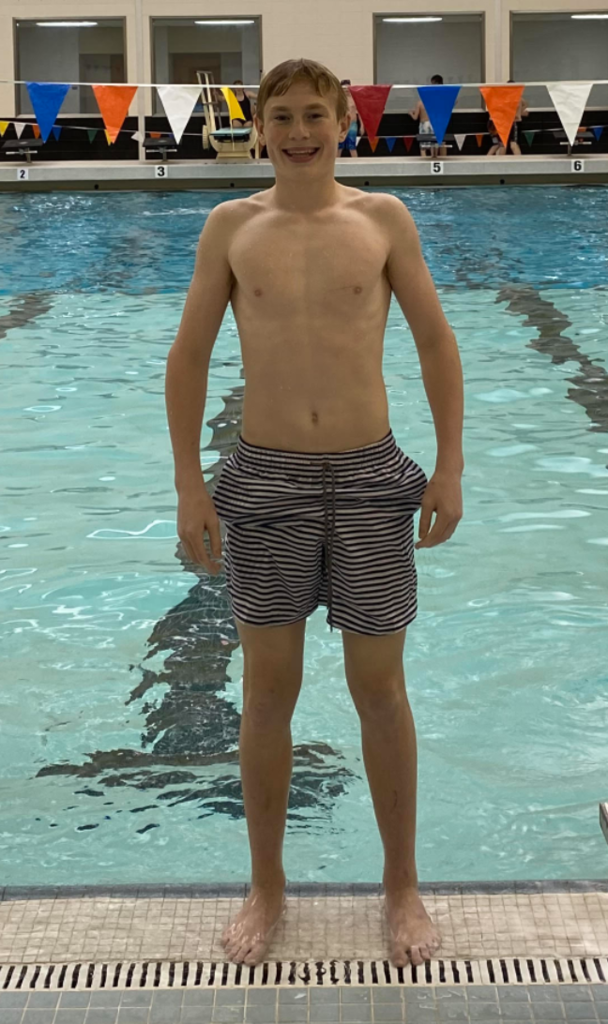 It's not too late to register for a SPORTS PHYSICAL!
Congratulations to Senior Kadence Krueger on being named the 2021-22 Student Council Member-of-the-Year. We wish Kadence tremendous success at IU.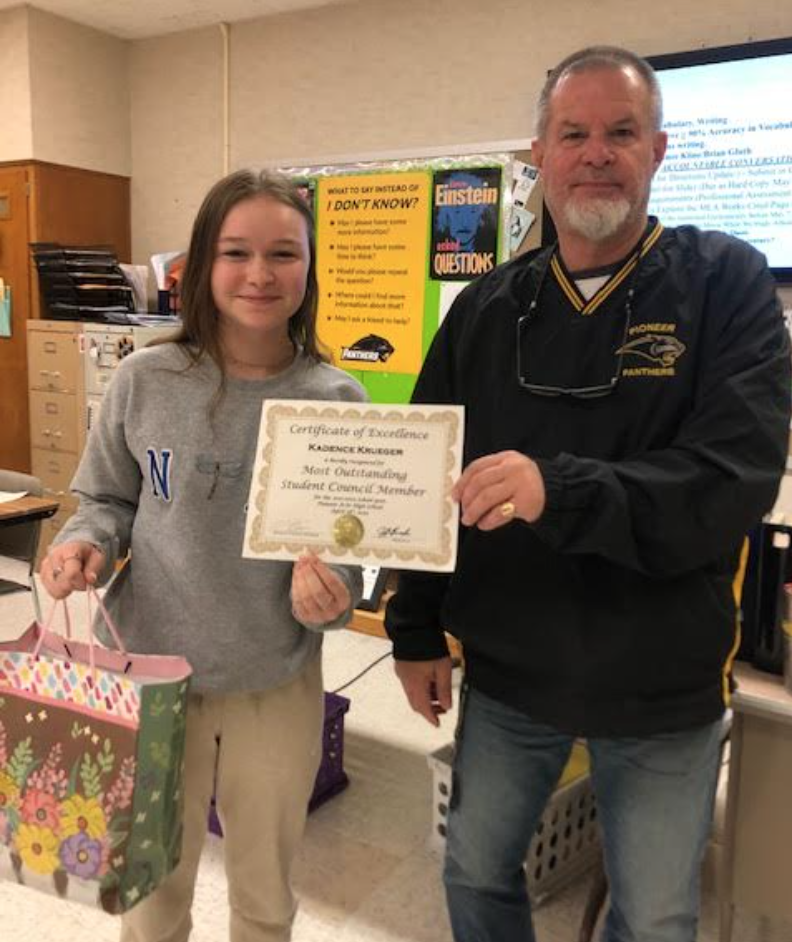 Sunshine Initiation and Ideal Ladies Tea will be held on Sunday, May 1 from 2-4. Hope you see you there! Come through door 18.
May menu: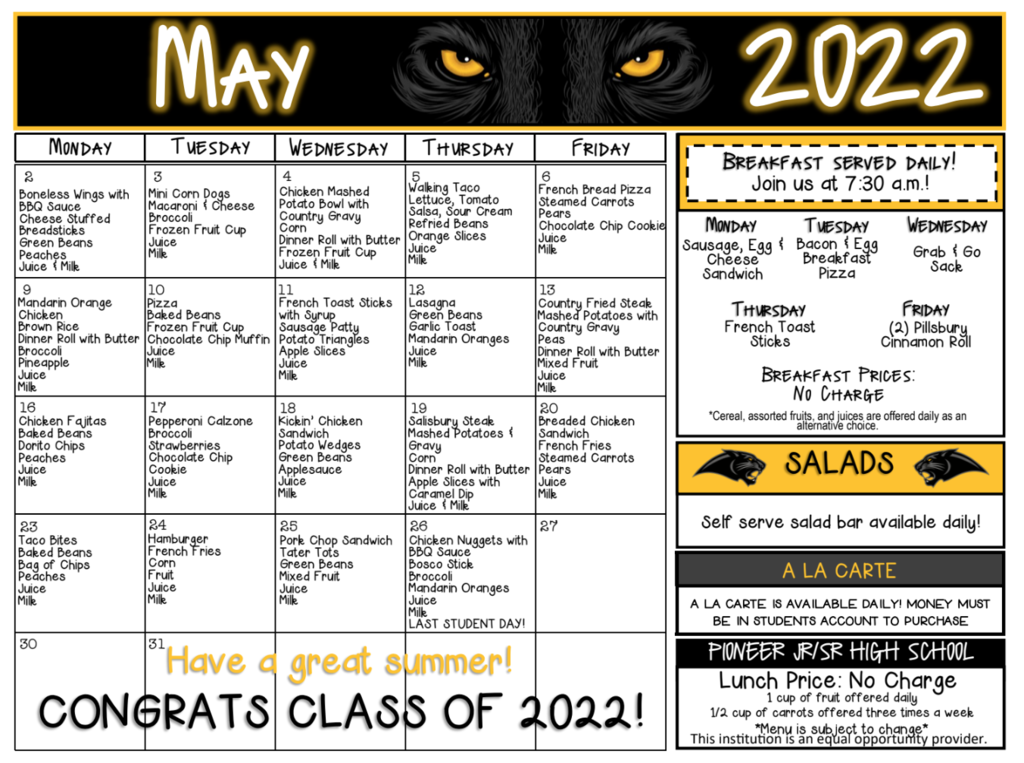 Don't forget about SPORTS PHYSICALS being offered May 4 for $15.00!
Congratulations to both the junior and senior high choirs, which received gold ratings this weekend at the ISSMA competition.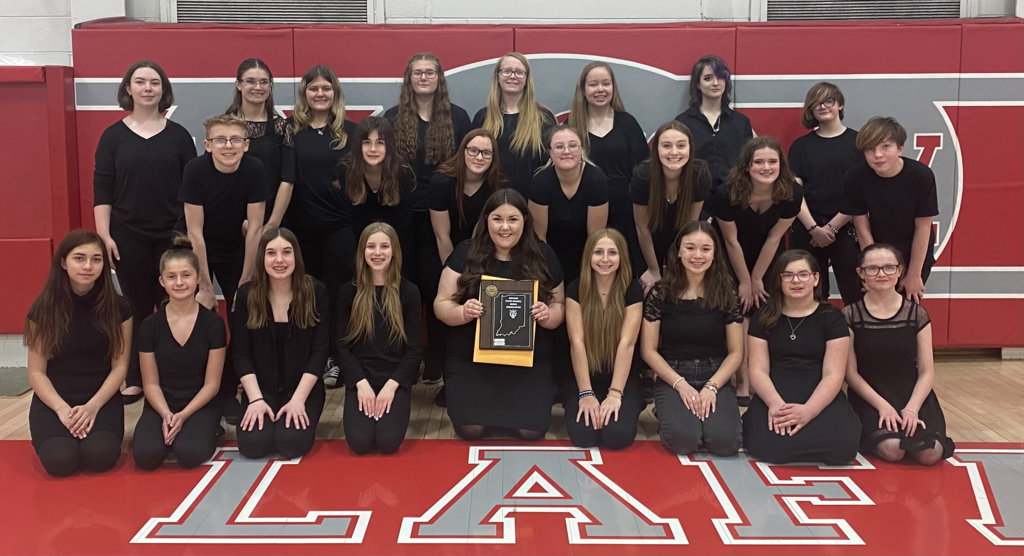 HAPPY ASSISTANT PRINCIPAL'S DAY to MRS. SHRONTZ! We are blessed to have such an awesome assistant principal who goes beyond what is expected of her to make PIONEER the best it can be! Thank you, Mrs. Shrontz for truly living the black and gold!